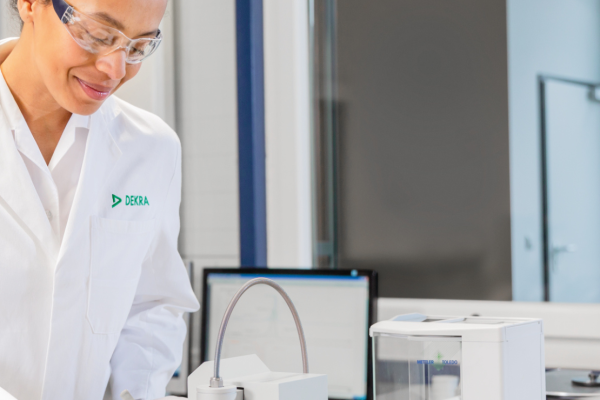 Are REACH and CLP Compliance Challenges Keeping You Up at Night?
DEKRA's expert guidance helps you sleep soundly, with compliance worries in capable hands.
REACH and CLP Testing Services
Optimal Safety and Full REACH and CLP compliance
Ensuring optimal safety and full compliance with European regulations (REACH and CLP) is paramount for chemical substances and mixtures. Failing to meet these stringent requirements can lead to regulatory penalties, reputational damage, and even product recall.
DEKRA's comprehensive
REACH Testing
and
CLP Testing
Services are designed to guide you through this complex process efficiently, providing you with peace of mind and safeguarding your business interests.
Navigating Complex Chemical Regulations
European Union's (EU) REACH and CLP regulations are complex. REACH (Regulation No. 1907/2006) mandates the registration, evaluation, and authorisation of hazardous chemicals, while CLP (Regulation EEC/1272/2008) governs classification, labelling, and packaging. Non-compliance can have legal and market consequences. Partner with DEKRA for expert help, saving time, resources and headaches.
Get in touch with our experts & get a free quote
DEKRA's Approach to Streamline Compliance Process
Our proven approach to REACH testing and CLP testing Services begins with meticulous analysis to identify which substances require registration under REACH. We then optimise your compliance strategy, ensuring your report's accuracy and timeliness. The next step involves collecting essential data from lab tests and trusted sources, followed by the preparation of your report. We use the ECHA-approved International Uniform Chemical Information Database (IUCLID6) to compile and organise your company-specific and substance-specific data. Finally, we submit your report to the European Chemical Agency (ECHA) via the REACH-IT system, handling the entire process with precision and care.
For REACH and CLP compliance, laboratory testing is often required to determine a range of physico-chemical properties. We analyse substances in our laboratories to determine a range of characteristics, including:
Melting / Freezing point

Boiling point

Relative density

Vapour pressure

Surface tension

Water/solvent solubility

Partition coefficient

Aerosol flammability

Self-reactive substances and mixtures

Flash point

Flammability of solids

Flammability of gases

Flammability in contact with water

Flammability in contact with air

Explosive properties (including waiver statements)

Liquid auto-flammability

Solid auto-flammability (relative autoignition temperature)

Self-heating substances and mixtures

Oxidising properties (including waiver statements)

Viscosity

Dissociation constants in water

Granulometry

Corrosivity

Formation of explosible dust/air mixtures testing
REACH Only Representative (OR)
DEKRA acts as a REACH Only Representative for non-EU manufacturers, simplifying the compliance process.
Our laboratories are certified for Good Laboratory Practice (GLP) and International Organisation for Standardisation (ISO), ensuring dependable and accepted test data.
We tailor testing to your specific needs, minimising unnecessary expenses with waiver statements and screening tests.
Our internationally renowned experts collaborate with regulatory authorities, offering unparalleled expertise.
DEKRA boasts cutting-edge global testing facilities and the capability to modify or develop new tests as needed.
With in-house process safety laboratories, we provide comprehensive support for dust explosion testing, meeting the latest requirements (EEC/2020/878) and enhancing safety data sheets (section 9.2.2).
Ready to experience the benefits of DEKRA's REACH and CLP Compliance Services? Contact us to start your journey toward safety and regulatory excellence.